One Trip for Two Bucket List Items: Colorado Parks + Dude Ranches
Colorado is home to four National Parks — Rocky Mountain, Mesa Verde, Great Sand Dunes and Black Canyon of the Gunnison and 41 State Parks. Colorado also contains over 3.5 million acres of federally protected wilderness contained within 41 separate wilderness areas. As a statewide organization, the Colorado Dude & Guest Ranch Association represents 24 of the top dude ranches in the state of Colorado which all just so happen to be in some of the most beautiful natural surroundings you've ever encountered! So if you want to explore some of the most scenic and untouched places in Colorado on horseback, a Colorado Dude Ranch needs on the bucket list!

Rawah Wilderness Area (Northern Colorado)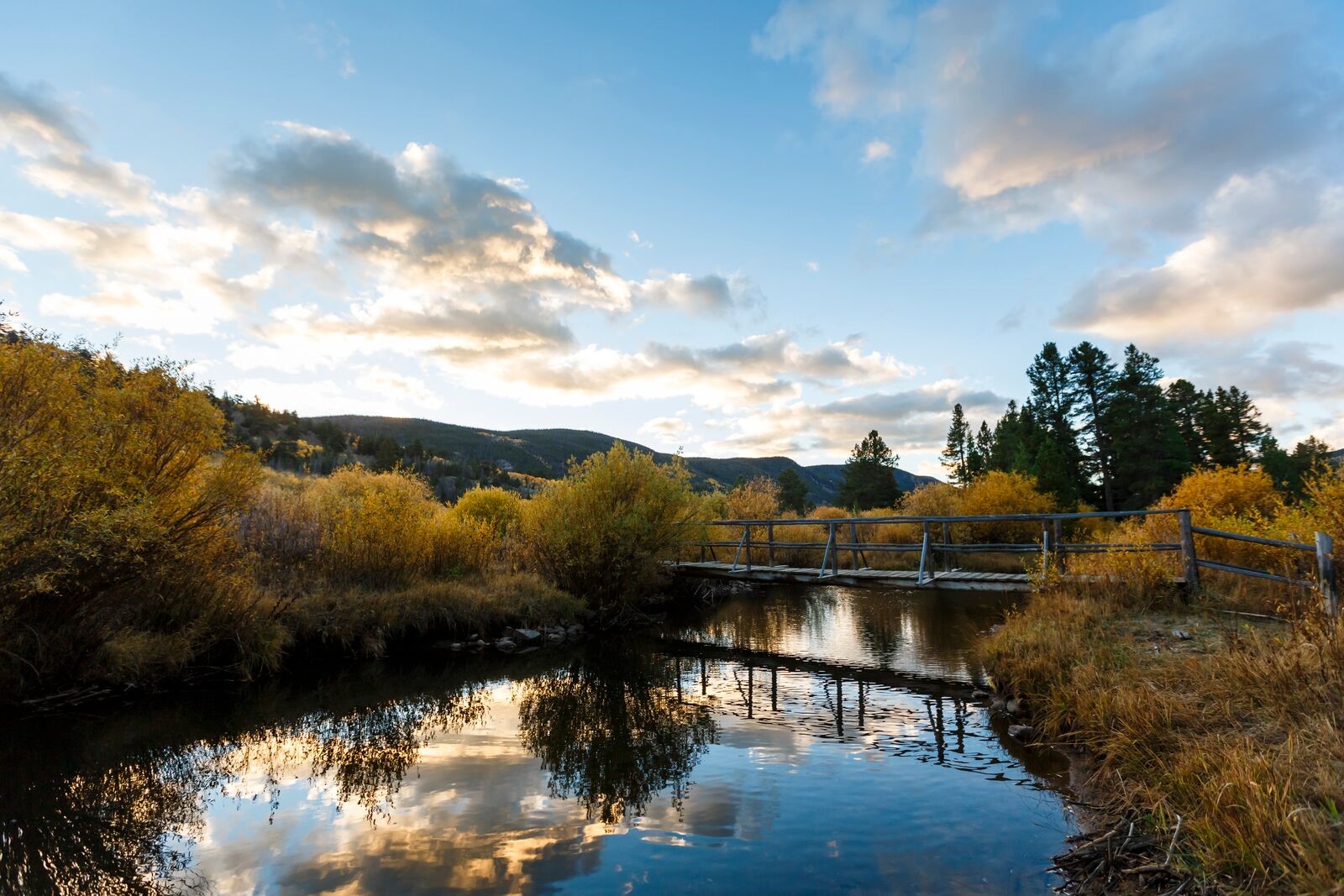 Colorado Dude Ranches Nearby:
Rawah Ranch,  Cherokee Park Ranch
Just before the Front Range of the Colorado Rockies fades into Wyoming's Medicine Bow Mountains, the Rawah Wilderness protects a scenic high country of U-shaped glacier-carved valleys and peaks reaching 12,951 feet. To the south and west of the area lies an almost roadless Colorado State Forest, an unofficial extension of the Wilderness. Melting snow fills 26 lakes within the area. On the upper forested slopes of the mountains, especially in the southern section, clusters of old-growth spruce and fir abound. You can expend energy on more than 75 miles of trails. Take the Link Trail in the north for nine miles to join the Rawah Trail. Fall attracts many deer and elk hunters. Bighorn sheep are occasionally spotted, and moose that were reintroduced in the 1970s are now doing well.

Routt National Forest (Northern Colorado)

Colorado Dude Ranches Nearby:
Vista Verde Ranch, Black Mountain Ranch, Latigo Ranch
The Routt National Forests and Thunder Basin National Grassland cover nearly 2.9 million acres from north central Colorado to central and northeastern Wyoming. From mountain ranges to grasslands and crystal clear streams, the national forests and national grassland provide abundant and unique opportunities for visitors. The national forests encompass portions of many mountain ranges, including Gore Range, Flat Tops, Parks Range, Elkhead, Medicine Bow Mountains, Sierra Madre, and Laramie Range.

Arapaho & Roosevelt National Forests (Central Mountains)

Colorado Dude Ranches Nearby:
C Lazy U Ranch, Bar Lazy J Ranch, Drowsy Water Ranch, Devil's Thumb Ranch
The Arapaho and Roosevelt National Forests is located in north central Colorado. The forests encompasses 1.5 million acres and extends north to the Wyoming border, south of Interstate 70 to Mount Evans, west across the Continental Divide to the Williams Fork area.

San Juan National Forest & Mesa Verde National Park (Southwestern Colorado)

Colorado Dude Ranches Nearby:
Colorado Trails Ranch, Majestic Dude Ranch,  Rainbow Trout Ranch,
The San Juan National Forest is a U.S. National Forest covering over 1,878,846 acres in western Colorado.  Mesa Verde National Park is known for its well-preserved Ancestral Puebloan cliff dwellings, notably the huge Cliff Palace. The Chapin Mesa Archeological Museum has exhibits on the ancient Native American culture. Mesa Top Loop Road winds past archaeological sites and overlooks, including Sun Point Overlook with panoramic canyon views.

Pike and San Isabel National Forest (Central Mountains)

Colorado Dude Ranches Nearby:
Tumbling River Ranch, Lost Valley Ranch, Emerald Valley Ranch, Badger Creek Ranch, Elk Mountain Ranch,
The Pike and San Isabel National Forests are two of eleven National Forests in Colorado and two of 154 within the National Forest System of the United States. The Pike National Forest was set aside as a Forest Reserve and later was designated a National Forest in 1906. The recreation resource on the Pike National Forest is widespread and varied. Marking the north end of the is Mount Evans at 14,264 ft. elevation surrounded by the 73,000 acre Mount Evans Wilderness. Mount Bierstadt, another of Colorado's "fourteeners" at 14,060 ft. elevation is also located in the Mount Evans Wilderness. North and west of South Park in the western part of the Forest, are the high elevations of the Mosquito Range from Guanella Pass southward to the Buffalo Peaks country. Except for Geneva and Jefferson Creeks, the recreation resource in this large expanse of Park County remains primarily primitive and undeveloped, accessible mainly by four-wheel drive, horse or foot. Remains of early day mining railroads and stage routes are still easily discernible, further adding to the attraction to the area. More "fourteeners" are found west of Fairplay: Mount Lincoln 14,286, Mount Bross 14,172 ft., and Mount Democrat 14,148 ft.

The Great Sand Dune National Park & Sangre de Cristo Mountain Range (Southern Colorado)

Colorado Dude Ranches Nearby:
The tallest dunes in North America are the centerpiece in a diverse landscape of grasslands, wetlands, conifer and aspen forests, alpine lakes, and tundra. Experience this diversity through hiking, sand sledding, splashing in Medano Creek, wildlife watching, and more! The park and preserve are always open, so plan to also experience night skies and nocturnal wildlife during your visit. Looking east, you'll see the spiny Sangre de Cristo range, which is among the tallest mountain ranges in Colorado. Mt. Blanca, in the heart of the Sangre de Cristo's, is the fourth tallest mountain in the state. From just about everywhere in the valley, you'll have stunning views of this beautiful mountain.

Grand Mesa National Forest & Little Book Cliffs Wild Horse Area (Western Slope)

Colorado Dude Ranches Nearby:
The Grand Mesa, Uncompahgre and Gunnison National Forests are a combination of separate National Forests located on the western slope of the Colorado Rockies. These three forests combined cover almost 3 million acres of National Forest System land in the central and southern Rocky Mountains, an area that lies south of the Colorado River and west of the Continental Divide with some of the most spectacular scenery in the Rockies. The Forests include spectacular features like the 355 foot high Bridal Veil falls; the Grand Mesa with over 300 lakes, one of the world's largest flat top mountains; and the Alpine Tunnel, once the highest railroad tunnel in North America. The Little Book Cliffs Wild Horse Area is managed for multiple uses, but wild horse habitat is the primary concern here. This 36,113-acre range is one of only three ranges in the United States set aside specifically to protect wild and free roaming horses. From 90 to 150 wild horses roam these rugged parks and pinyon-juniper covered hills.

Rocky Mountain National Park (Northern Colorado)

Colorado Dude Ranches Nearby:
Wind River Ranch, Sylvan Dale Ranch, Sundance Trail Ranch
Located near Estes Park Colorado and only a few hours from Denver, the park is open 24 hours a day 365 days a year. Boasting over 300 miles of trails and encompassing 415 square miles this truly is a Rocky Mountain High. With such an amazing variety of wild creatures and unbelievable scenery, RMNP, attracts visitors from all over the world.